Inaugural Ambassador - Melissa Johnson
Vale Mel Johnson
It is with great sadness that we must report that BTAA Ambassador, brain tumour patient and brain tumour warrior, Mel Johnson, passed away on Friday 13th of December after a long battle with her brain tumour. Mel's courage and positivity has inspired all of us who have had the privilege of knowing her.
Mel's drive and enthusiasm to raise funds for brain tumour research were unmatched across Australia and made her a legend in our brain tumour community. Her annual "Mel Goes Grey in May" fundraising ball, first held in 2014, was attended by people from across Australia and strongly supported by all in the Bathurst community.
Mel was also a fierce advocate for all brain tumour patients and carers, and worked with doctors, researchers, and medical and support staff tirelessly. Never for a moment did Mel stint in her efforts to make the world a better, and a better informed, place.
Mel was originally diagnosed with a brain tumour in 2000. She and her husband Peter had 2 little children, Olivia and Matthew, at the time. Her first craniotomy was in 2002, and then in 2006, she had intensive radiation therapy (7 weeks, 5 days a week). Following another operation in 2011 the tumour was found to be GBM.
She was also honoured with a place in the 'Living Legend 200' during the Bathurst Bicentennial celebrations in 2015. This title recognises the achievements of individuals and the way they have contributed positively to the community.
Her Sunflower Logo is displayed by Matt Campbell, a Porsche Team driver, on his race car.
Mel was exuberant, and focussed but always warm and full of fun. She never indulged in self-pity, rather strove consistently and bravely ahead. She will be sorely missed by all who knew her.
Our Supporters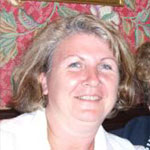 Sally Payne, Sydney.
University lecturer whose sister had an anaplastic astrocytoma. Sally supports the International Brain Tumour Alliance in a number of ways. Sally represented the IBTA at the scientific meeting of the American Society of Clinical Oncology, held in Chicago in 2008. Sally was a presenter at a Sydney neuroscience nurses' seminar in 2008 and also represented brain tumour patient and caregiver interests at a discussion of proposed clinical practice guidelines for malignant glioma in 2008. 
John Carey, Perth.
John knew nothing about brain tumours - until his mother Delys was diagnosed with GBM 4 in 2006. Her amazing courage and humour inspired him to establish with other patients, family and friends, the Brain Tumour Association of WA.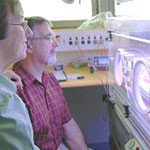 Liz and John Emmett, Melbourne
Liz and John live in Melbourne where John is an official of the Uniting Church. In this photo, they are looking at one of their grandchildren, who was then in the hospital special care unit. Their daughter Natasha is a long-term glioblastoma survivor. Liz has written the story of Natasha's journey here where thousands of newly-diagnosed patients have read it and obtained hope.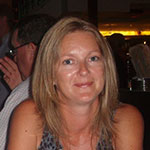 Tara Gent, Melbourne
Her brother died from a glioblastoma multiforme brain tumour in 2007 and she was motivated to help BTAA to make it easier for other families to cope with the challenge of a brain tumour diagnosis. Tara participated in the IBTA's 2007 and 2008 Walk Around the World for Brain Tumours.
Jordan Cowen - Honeywood, Tasmania
Penny Bowman, Wellington, New Zealand
Penny, with her late husband Dave, led the fight in NZ for access to the concomitant therapy of temozolomide and radiation therapy for newly diagnosed glioblastoma patients. Penny and Dave travelled to the world-famous brain tumour treatment centre at Duke University (USA) and an award-winning documentary about their struggles was screened on NZ television. New Zealand residents should join the NZ-based brain tumour discussion group.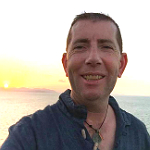 Colin's Brave Brain Tumour Battle
https://onelightcharity.com/product/colins-brave-brain-battle
In 2011 Colin McCulloch was struck down with a life-threatening brain tumour, an ependymoma. His tumour was in the centre of his brain and the size of a small orange.
After 2 craniotomies, rehabilitation and ongoing treatments, he is now the Trading Manager at Bartercard Canberra, a demanding position trading over 200 businesses in the Capital.
He counts himself extremely lucky to be back at work 12 months later, but his struggle is far from over.
After intense Neuro-Psychological assessment 2 years ago, Colin received confirmation of 3 areas of brain damage as a result of the tumour surgery.
Colin has also been diagnosed with a form of Post Traumatic Stress Disorder (PTSD).
Like many other brain tumour survivors, Colin will be burdened for the rest of his life with out-of-pocket financial costs and the One Light Charity Foundation has established a fundraising webpage to help with his ongoing treatment costs.