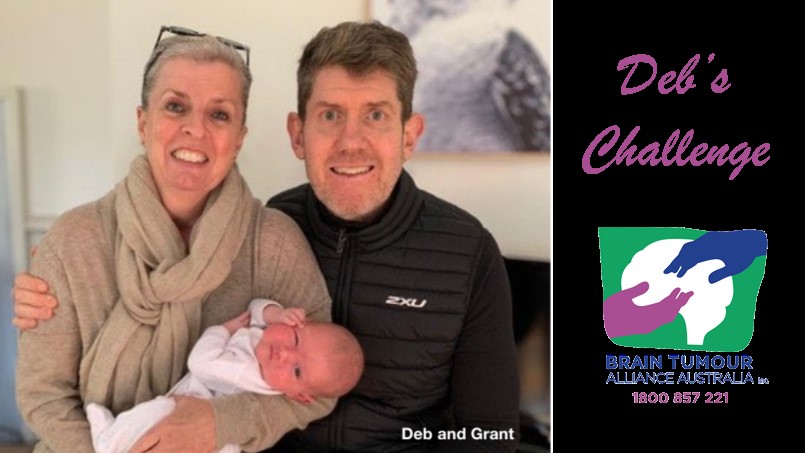 Out of the blue I was diagnosed with a brain tumour. A sore left eye led to an MRI which revealed a large tumour wrapped around my optic nerve, carotid artery, growing from the front of my forehead to the back of my head. Described to me like ivy, it was invasive and spreading its tentacles in the tiny spaces in my brain.
Having experienced few symptoms, I was shell shocked by the diagnosis, surgery and recovery that lay ahead. Right from the start my husband Grant and I decided to take a team approach – to do this together from start to finish. To be open with family and friends about the diagnosis and to hopefully remove some mystery and fear about brain surgery.
I was fortunate to have family, friends and my GP's husband working in the medical field of neurosurgery, so with their guidance, I was able to make an informed decision as to who, where and when we would tackle this head-on (excuse the pun!). With the unwavering support of my husband, family and friends, I put my personal affairs in order and on the 25th March 2020, a neurosurgical team led by Dr Nazzi Assaad performed 13 hours of surgery at Macquarie University Hospital right in the midst of Sydney's COVID lockdown.
It was with great anxiety and apprehension that I faced the biggest challenge of my life. Many questions swirled around in my mind – would I get through the surgery and if I did would I be impaired in any way? Would I be able to walk, talk and experience life as I had in the past? Would my thinking or cognition be impaired in any way? I had such faith in my medical team that I knew they would do their best to get a positive outcome for me.
Waking in intensive care six days later with a very funky hairstyle, and 50 staples in my head I knew it was up to my body to let the recovery unfold and to put my trust into those around me to guide my recovery.
I felt no pain just some nerve discomfort from the staples in my skull – in fact, the pain was much less than I anticipated. Ice cream, porridge and cheese sandwiches became my staple diet during my recovery. The histopathology revealed my tumour to be a Grade 1 Meningioma – a large benign tumour 4cm x 3cm x 3cm. I felt such relief and gratitude.
After two weeks of recovery in hospital, I was finally home in my own bed and once again united with my two mini dachshunds. Learning to walk, talk, think, and do simple self-care tasks was challenging and took time and patience. Gradually day by day I noticed that things were becoming easier – I could walk further on my own, watch a little TV and make myself a cuppa. All these things that seemed so simple before surgery became mountains to climb. It was like being taken to 'ground zero' and climbing back out of the abyss day by day inch by inch. The positive for me was a perfect recovery. I met all of my recovery milestones without any dramas. Sleep became my friend and the more I slept, the more I recovered. The aftermath of brain surgery is extreme fatigue – some days were good - others more challenging but I always played the long game and kept my focus on the horizon where full recovery was my goal.
My husband Grant, my dearest friend Nic and so many others held my hand and were cheering for my full recovery from the sidelines. This gave me strength and focus to keep going.
After six months of recovery, I was weaned off the medications that prevented seizures and swelling of the brain. This was a milestone for me as I felt I was beginning to get back to 'normal' life. Being given the ok to drive 10 months into my recovery was another red-letter day. After being so dependent on others I was finally becoming independent again.
12 months post-op I opened a homewares store in Laguna NSW with my business partner and friend Chantal. Her incredible belief in me was the best rehab I could have! Life is better post brain tumour – it has given me the gifts of insight, courage and patience. Things that seemed a big deal before are now just a small 'glitch' on the radar of life!
My hair is growing back and apart from losing my taste, smell, and a small part of my peripheral vision I am back to normal. An annual review by my neurosurgeon will be part of my health care for the next 5 years. Fingers crossed I go from strength to strength.
To return to the BTAA homepage please click here.